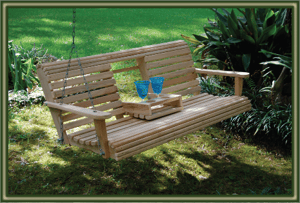 $

269.99
Our 5ft Console Porch Swing is equipped with a fold-down console for you to place your drinks in! This handmade cypress patio swing is heavily constructed and will accent your porch or yard for years to come. Each sturdy slat is finish sanded on all sides and ends for your safety and comfort . In addition, these swings have 4 supports across the back AND 4 across the bottom. Few porch swings are built with this kind of quality support system! Each purchase includes all necessary hardware for a standard porch installation: S-hooks, chains, bolts, and eyebolts. As with all Cypress Moon Furniture, price includes FREE SHIPPING!
• Made in America!
• Rolled front and back
• Contoured seat for supreme comfort
• Four-Brace System across back and bottom
• Easy assembly (Comes with simple instructions)
• Constructed with galvanized and zinc plated hardware (no rust!)
Dimensions: 56" wide inside seat - 18 1/2" deep seat - 19" high back - 56" wide back
NOTE: Additional sizes of our Console Porch Swings are available on our website www.CypressMoonPorchSwings.com
WHY CHOOSE CYPRESS? Cypress wood is nicknamed as the "eternal wood". Cypress has a strong tolerance to environmental elements and has been known as the world's 'wood of choice' for thousands of years. Very few woods match the properties of cypress when it comes to sturdiness and strength. Cypress wood can be easily identified by its handsome, straight grain that portrays a gorgeous array of colors. This unmatchable beauty is enhanced by life long durability. Cypress wood is naturally decay and insect resistant and continues to be rated as the most durable wood in America. It has little tendency to warp, twist, or cup. It even matches up to teak wood in outdoor performance, yet cost sometimes 10 times less. Because of its beauty, natural durability, and broad versatility, cypress' popularity continues today!